While the hotel bar and the restaurants right around it present an easy opportunity to fill up, I feel like I owe it to provide some recommendations of where I think some of the best places to hang out around the hotel are.

Some of these recommendtions work best for Shmoocon in March vs Shmoocon in the cold of January.
Orienting Yourself
Below is a map of the neighborhoods. The gold star is the Hilton hotel. When you hear someone reference a neighborhood, hopefully this helps. The most common ones you'll probably hear are Adams Morgan (Admo), Dupont Circle (Dupont), U St, The Mall, and Capitol Hill.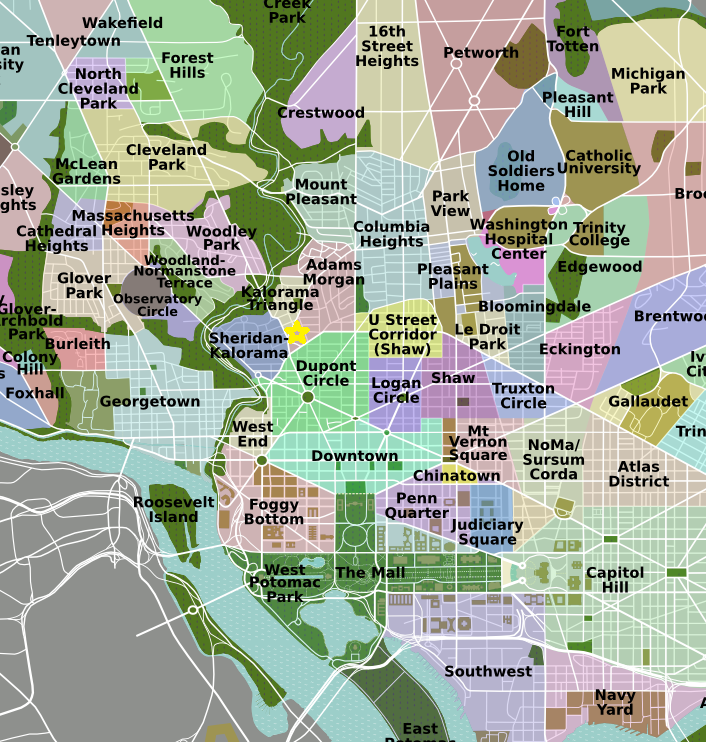 Getting Around
Metro
Dupont station is going to be closest and that'll get you to the red line.
You probably won't need to take the Metro unless you're heading to Amtrak or heading out to Virginia or DCA (Airport).
Buses
Metrobus. This is the main bus system for DC. It's heavily commuter focused. https://www.wmata.com/schedules/maps/.
Circulator

Your best bet to get to georgetown without walking. It comes frequently and it's only $1.
Hopping Areas
Admo
Dupont
14th St NW (between Logan Circle and U St)

Barcelona
Player's Club
Chicken & Whiskey
Colada Shop

U St

Head towards the loud music near 801 Florida Ave NW, Washington, DC 20001
You can't really mess up just bar hoping hear
Lots of rooftop areas

Georgetown

I don't go out hear a lot, but there's some decent bars. You're going to get a different group here - mix of college students and older DC residents

The Navy Yard

It's a bit of a hike, but worth it imo. Good restaurants, bars, and you're right on the water. Good for a nice Spring day.
Drinking
Nearby
McClellans Reterat
Board Room
Dan's Cafe

Notorious for their pour your own drinks

Jack Rose
Cocktails
Barmini - expensive, reservation required, but so good
Thai Chef Street Food - surprisingly good cocktails
Residents dC - https://www.residentsdc.com/menus/#cocktail-menu thanks @jamieantisocial
Anyone have other recommendations for ones near the hotel?
Whiskey
Speakeasies
Chicken & Whiskey (in the back behind the metal door)
Left Door (Need a reservation I believe)
The Gibson (Need a reservation I believe)
Partying
U st (search around TAKODA)
Eating
Nearby
Lucky Buns (Long wait)
Thai Chef Street Food

My favorite Thai in the city
Great cocktails
Pizza
Thai
Thai Chef Street Food (You maybe can tell I like this place)
Steak
Ethiopian
DC is famous for their ethiopian, but I actually haven't had it recently, so I'm sourcing recommendations
Late bites (nearby)
Dc pizza & kabob
Duccinis
El Tamarindo
McDonalds (Admo)
Andys (Admo)
Snacks/Sweets
Foxtrot (like an upscale 7-11)
Insomnia cookies - late night cookies
Jenis - my favorite ice cream place
Un je ne sais Quoi… - really good french bakery
Breakfast
Bethesda bagel
Ted's Bulletin - alcoholic milkshakes and the homemade poptarts are the stars
Just Plain Good
Anju
Iron Gate
Jinya (ramen)
Chinese
Great Wall Szechuan. It's the best. I won't be debating this :)
Other
Dupont farmers market

Call your mother bagels - best bagels in DC
Fresh fruit
Outdoors